Physical Games
We have multiple rooms to suit everyone. All games are over-seen remotely by a Game Master who will guide you through the game should you get stuck! When you arrive to play your game(s), the Game Master will inform you of the rules and some basic safety regulations (e.g.; don't pull light bulbs off the wall, they're not a clue!). They will then take you to your room, and initiate the game. When the game is finished, they will 'free' you and tell you your time, discuss your progress and take some group photographs that will be sent to you.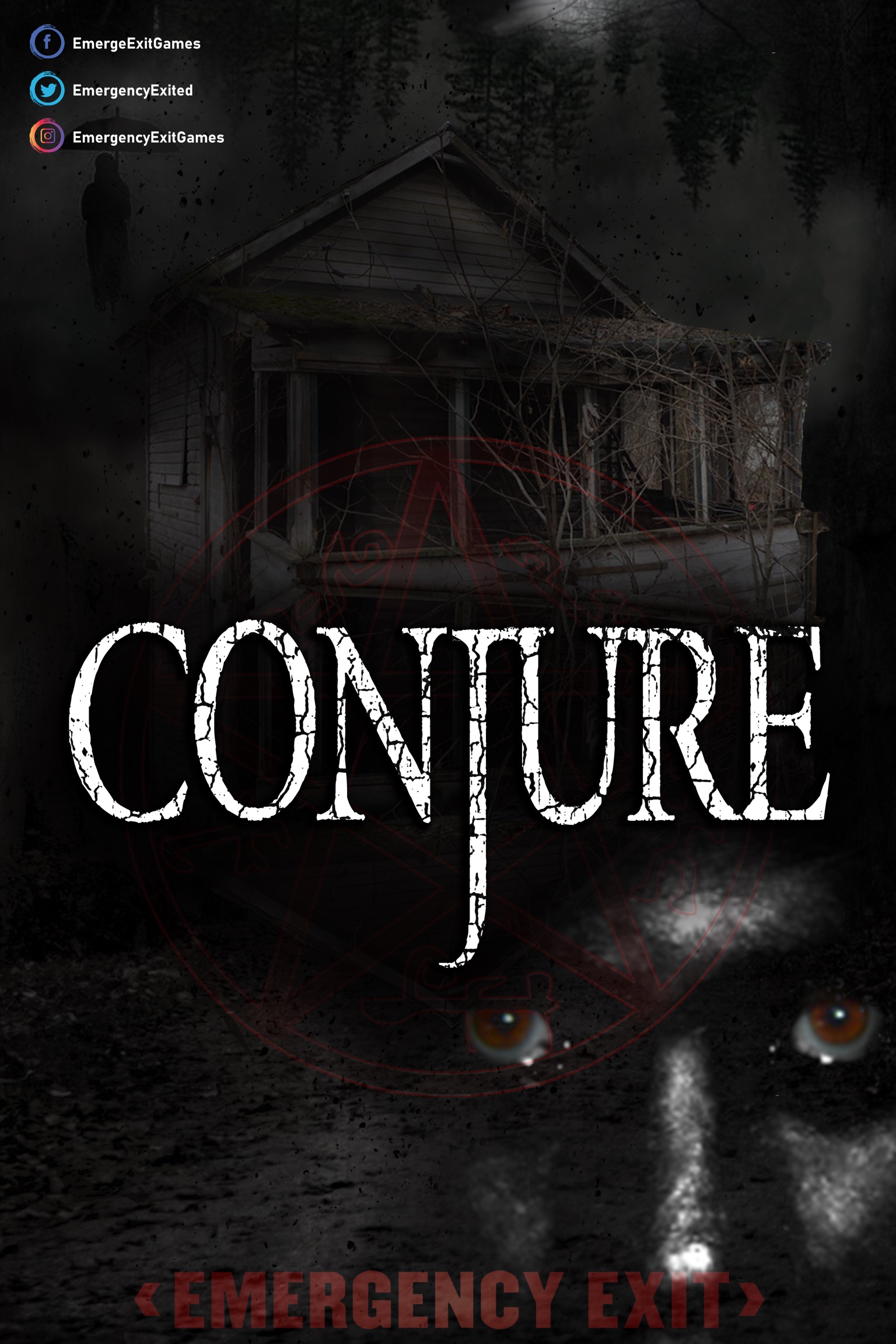 Conjure
New for 2020! Now open.
Deep in the forest of Crowley Manor lies a secret as dark as the house itself; maybe even worse?
There's a cabin in the woods with a legend of the supernatural. Long abandoned, there have been strange sightings and many people have disappeared, as reported in the news over the years, never to return.
You should NOT enter! But you did! The question is... can you escape part 3 of the Crowley Manor story and our most interactive room? There's lots of puzzles to solve before you can.
---
2-5 players.
At least 1 adult with children under 16, minimum age 15.
No strobe lighting; lights stay on throughout the game.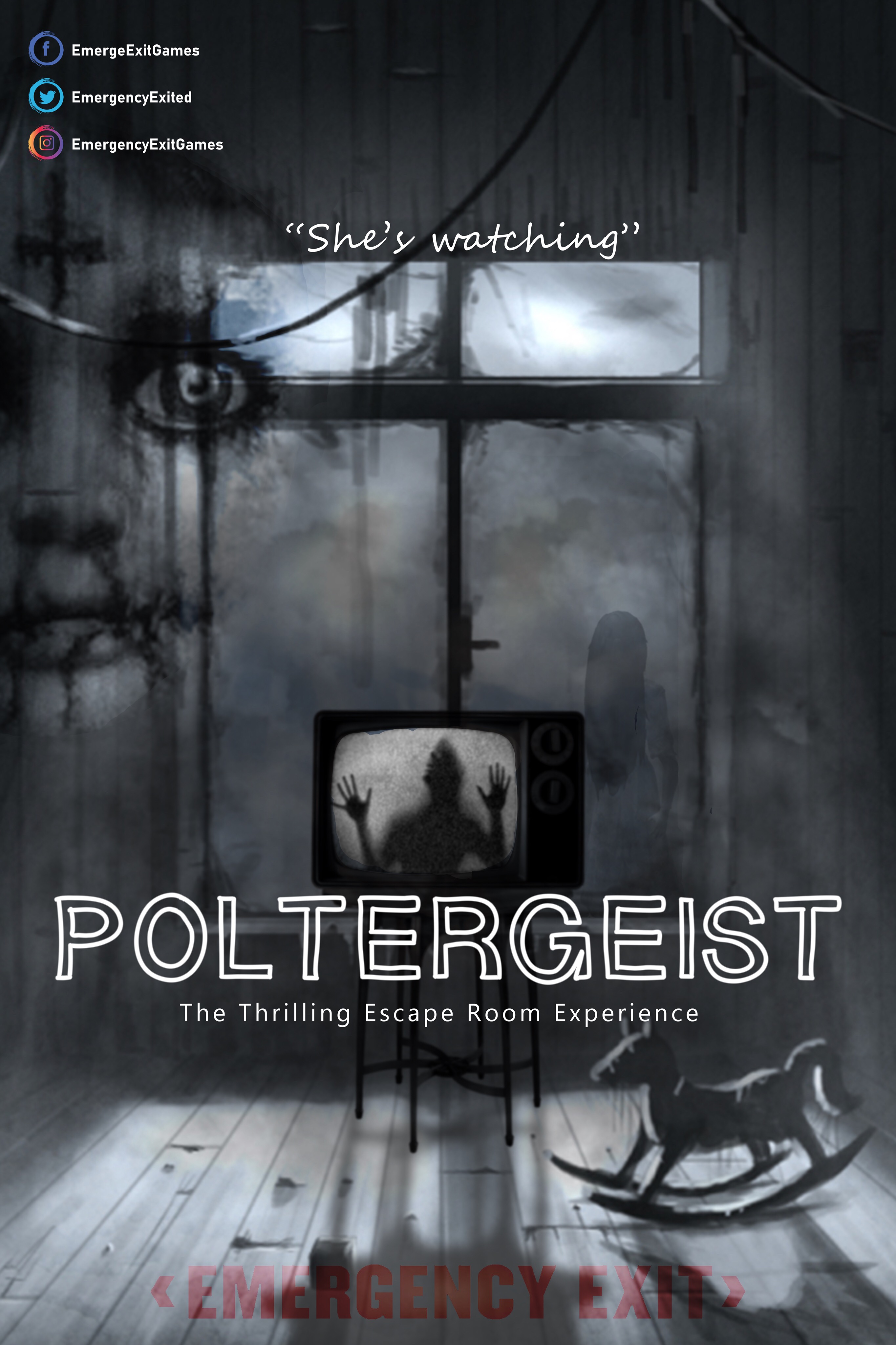 Poltergeist
2-6 players
Alice was always taught to hide secrets.
Using magic, logic and puzzle-solving, you must escape the extremely spooky place and unearth the mysteries of the haunted house - Crowley Manor.
Based in the same reality as our Exorcist room, you find yourself trapped in Alice's bedroom. You need to escape before the clock strikes midnight. Legend has it, this is when the spirits come to life.
This is a different style of escape room.
---
Maximum of 6 players.
At least 1 adult with children under 16, minimum age 11.
Can include periods in total darkness.
Room features bright strobe lighting - please request when booking to switch off.
---
Reviews
Only 1 person in the group had previously done an escape room before, so we didn't quite know what to expect. We all thoroughly enjoyed it and our host Liam/Matthew was fantastic.

The Poltergeist Room

is very creepy and effective, and can't recommend this enough. We will definitely be back to take on

The Exorcist

! - C9312GRmiker

---

We did the very spooky

Poltergeist Room

yesterday and we really enjoyed it. The hosts were really welcoming. We were very grateful when they came to help us find the building entrance when we were running a little late. We had done a couple of escape rooms before this and really loved this one - very original and well thought out - so we would definitely recommend it. We were slightly scared of the spooky voice! Thanks! - erwhitehouse

---

Visited yesterday with friends and did

The Poltergeist Room

. I've done breakout rooms before and this one did not disappoint. Will definitely be returning. - DLB888
---
Latest Players
Hussain's Heroes!!
00:49:50
Exorcist
2-8 players
The ancient legend has it that anyone who stays longer than 1 hour in this haunted house simply disappears! Follow the footsteps of a world leading demonologist to uncover the secrets of this spooky house and exorcise the demons. Do NOT outstay your welcome.
Based in the same reality as our Poltergeist Room, Crowley Manor.
---
Maximum of 8 players.
At least 1 adult with children under 16, minimum age 11.
Can include periods in total darkness.
Room features flickering lights - please request when booking to switch off.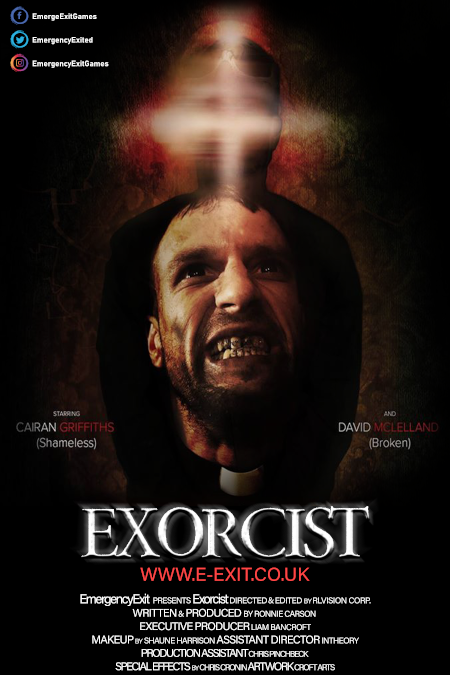 ---
Reviews
We visited yesterday to complete

The Exorcist Room

- we have done so many escape rooms but this is one of the absolute best! The theme was absolutely on point, it was just the right level of spooky and there was a really good mix of interesting puzzles that are different from what we have seen before! The host was also lovely, really set the tone for the room and couldn't have been more helpful. - knwright90

---

Myself, husband and two teenage children attended

The Exorcist Room

on a very wet Friday Evening. We have done a few escape rooms already but had not yet been successful in escaping. The room set up was very good with all furniture and props definitely in keeping with the theme of the story. The clues & puzzles were of a good level of difficulty and not too easy. At the end the owner was happy to chat with us about what we liked, and how it compared to other rooms that we had attended and also giving recommendations of others to try. We would all definitely recommend - an ideal hour of family fun with everybody having to work together to escape. Looking forward to trying

The Poltergeist Room

next. - Julie D

---

I've been to a few escape rooms and this was by far the best. The host was 10/10 and you could tell he was SO passionate about what he was doing which was lovely.

We did

The Exorcist Room

and it was amazing. It was jumpy kind of scary, but not horrifically bad as most of the group were wimps but they loved it! The puzzles were spot on - difficult but not too hard that it was super frustrating.

Overall, the escape room itself was brilliant and the enthusiasm and friendliness of the host topped it off and really made it stand out to other escape rooms. Thank you for the brilliant time and my friends and I will 100% be back for

The Poltergeist Room

! - BeckLGRMS
---
Latest Players
Norfolk and Chance
00:48:56
Top Times
We're Too Good At This
00:42:38
Fancy a virtual escape from the comfort of your home instead?
We have begun offering virtual games of our physical room games. You'll be playing the exact real-life room but control a Games Master via a video link. Check them out!
Book A Virtual Escape Now